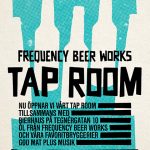 Every brewery should have it's own tap room, we thought. So we joined forces with central bar Bierhaus and redesigned their inner bar to a Frequency Beer Works Tap Room.
Tonight we open the doors for the first time, and we're thrilled and excited to kick things off now!
Welcome to drop by for some great beer, some great music, some amazing food and - most importantly - a really nice hang out.
Tegnérgatan 10, Stockholm is the address. See you there!